Customer Comments
__________________________________________________________________________________________________
Jan 2022
Happy New year!!!!
Hello Rod, Spencer & Brandon
This is a very belated thank you for your superb workmanship restoring my Steinway "M" in 2020-2021
Its appearance & sound are superb & I am getting so much pleasure out of playing it in its new state.
Please know how much your combined skills are being appreciated!!! In a world of so much stress making music
is a very soothing balm to the senses. Thank you all so much & good heath to you in 2022
Sincerely, B. Chambers & T. Perry
__________________________________________________________________________________________________
December 14, 2016 Verhnjak Pianos White Rock, BC
Dear Rod, On behalf of the North Okanagan Community Concert Association, I would like to thank you for the excellent workmanship on our "ne\ /" Steinway D. It has surpassed our expectations both in quality of finish and in sound. I have attempted to be in touch with all artists that have used it since its arrival, and without exception, the response has been "one of the finest instruments that I (we) have played on". From the beginning of our piano search, you have been on ourside with the acquisition of the piano and with recommendations for allowing you the adequate time to complete the job properly. I can only say that the wait was worth it. You have created a work of art both in appearance and in sound and I should also mention that the response of the performers to the action has been superlative as well. I hope that Thierry will be able to hear and possibly play his former piano because l'm sure he will be another one of its admirers. Again, from all of us here in the North Okanagan, our sincerest thanks and best wishes for many more masterworks.
Yours truly, Paul Maynes, President NOCCA
__________________________________________________________________________________________________
Below are two links to CBC Radio about a Mason & Risch upright we rebuilt. The first link is when we took in the piano and the second link is from when we completed the instrument. There are a few pictures and an audio link to listen to.
It now appears the audio is no longer available. To hear the audio try the http links.
CBC.ca | North by Northwest | New life for an old piano
http://www.cbc.ca/player/play/2332833363 Around 8:26
CBC.ca | North by Northwest | Family Piano Reborn
http://www.cbc.ca/player/play/2450464105
______________________________________________________________________________________________________

August 22, 2014
A few years ago we acquired a 100 year old Bechstein Boudoir Grand Piano. It was in generally good shape, but did need work on its cabinet, action and pin board. We had no idea who to engage for a restoration. After some research we learned of Rod Verhnjak's skills with piano restoration and his family's reputation in the business. After meeting Rod we arranged for him to restore our Bechstein. Now that the job is complete we could not be more pleased with the work. Rod never over promised on the time line - and we knew that quality work takes time. Rod was never discouraged and he never complained when adversity struck. The cabinet had delaminated in places and needed extra care and attention. Some of the parts were hard to find or hard to fix. Rod did everything with pride and patience.
With the Bechstein back at home we're thrilled with its sound quality and well balanced action. Everyone who walks in the house notices it immediately and comments on its beauty. We are very thankful to Rod and his staff for their integrity and craftsmanship. In today's world it is very hard to find such people who take care and pride in all aspects of their work.
Thank you very much Rod.
Yours truly,
Frank Hallam
_______________________________________________________________________________________________________
May, 2013
As I'm sitting in front of my gorgeous just delivered upright Steinway & Sons, I'm in awe. I couldn't be happier that I made that call to Rod almost two years ago when searching for my dream piano.
Going through quite a few pianos before left me with high expectations. Not long after I picked up piano lessons my parents bought me a used baby grand. That little Bosendorfer got weaved into many great memories of learning to play piano over twenty years ago. Since then I went through a few uprights while traveling abroad. The last one was a retired concert upright John Broadwood & Sons – a great pleasure to own during my few years of working in New Zealand, as it had that unforgettable mellow sound.
The one call I made to Rod ended my journey when Rod told me he had an upright Steinway & Sons that just came in and that it was in a really good shape for such an old piano. To be exact, Rod mentioned that it was one of those 2% that would be a good candidate for restoring. Rod sent some pictures in a hurry shortly after I showed up at his store. It was love at first sight. The piano was in good playing condition despite its age of more than 100 years old. Rod explained more particulars as I inquired about the restoration process. Rod has a real gift when it comes to pianos. His knowledge is deep and detailed, and his craftsmanship of highest quality. I was sold and the process begun. It has been a pleasure going through the restoration as Rod kept me in the loop throughout the whole process by a lot of pictures via emails and texts. Plus there were a few times I stopped by to see my new piano take shape, which ended with long and fun piano chats and from which I have also learned so much more about pianos.
I cannot express enough gratitude to Rod, his wife Meranda and his staff. Finding my dream piano for me was like soul searching. It brings me joy to know it was taken care of by the best piano craftsman. It also gave me tremendous comfort to know that every small detail was mindfully attended to and so it will last me a lifetime. It is wonderful to see this beautiful old piano reinstated to an impeccable condition; the work has exceeded all my expectations. The end result is priceless. The sound is exquisite. It has put all my past pianos to rest forever. Having a busy clinical workload, piano has always been my outlet and way to recharge. This one is the piano of my dreams, just feels so sublime to play. As if the instrument has a soul of its own.
Dr. M. Smit,
Surrey BC
______________________________________________________________________________________________________
Verhn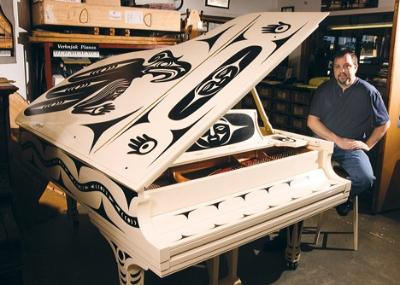 ISSUU - Fri March 19 2010 PAN by Peace Arch News
In tune with art
iBy Hannah Sutherland-Peace arch News
Published: March 18, 2010 12:00 PM
Just months ago, two very unique pianos passed through the doors of Rod Verhnjak's shop.
Amidst the technician's shelves of glues, tools and boxes of various odds and ends stood the same Steinways now in Steinway and Sons' prestigious Art Case Collection, the most notable piece from which was decorated by English artist Alma Tadema in the late 1800s and sold in a 1997 auction for $1.2 million.
Kuniisii – Music and Mythology is a black piano covered with the hand-painted design of Haida artist Jay Simeon, while The Way of Our Ancestors – Welh timás ta swa7ámchet is white with the artwork of Jody Broomfield painted in black.
They are both valued at around $500,000.
Together, the pianos are called Black and White In Harmony, and are meant to celebrate B.C. aboriginal art.
Verhnjak Pianos was commissioned to work on both of the instruments last year before they were unveiled to the public.
While at the South Surrey shop, they were dismantled, sanded, detailed and coated in a protective lacquer.
Kuniisii stayed at Verhnjak's Pianos for five weeks near the beginning of last summer, while The Way of Our Ancestors took nine days worth of work at the end of November.
Verhnjak – who took over the family business after his father passed away six years ago – said he has had a passion for working on pianos since he was a kid, having grown up and spent many summers and weekends in the shop.
Although the White Rock Christian Academy grad played trumpet and trombone in high school, he was drawn to the inner-workings of instruments more than playing them.
"I'm mechanically minded and I build stuff. I'm not a musician."
As technician, rebuilder and owner at Verhnjak Pianos, he has seen extraordinary pianos pass through his doors, from antique Steinways to pianos belonging to famous musicians, such as Bryan Adams.
One of the most memorable was the childhood piano of Joni Mitchell. He said he recognized handwritten music on the bench as some of her famous songs.
As far as Black and White in Harmony, he feels privileged to be chosen for the work.
"It's nice to be called upon and trusted to do this kind of work in town," he said.
After two years in the making, Kuniisii was unveiled last July at the Vancouver Convention Centre, where Simeon explained it was named after the supernatural being that gave the Haida people songs and music.
The design was painted in acrylic made from ground argillite, a stone found exclusively on Haida Gwaii.
The Way of Our Ancestors was unveiled to the public Jan. 7.
According to a release, Coast Salish artist Broomfield – a North Vancouver resident and Squamish Nation member – created the piano's design using symbols of his culture, such as the thunderbird, salmon, ocean, sacred eye and humanity.
His other recent artworks include the Four Host First Nations' crest for the 2010 Games, and five gold and silver collectible coins for the Royal Canadian Mint.
The pianos – which were commissioned by Tom Lee Music Canada – appear in select concerts and artist performances throughout B.C. until the end of the Paralympics this weekend, after which they will be sold, with partial proceeds benefiting the BC Lions Society for Children with Disabilities.
"We're hopeful a buyer will buy them and maybe donate them to the Museum of Anthropology," Tom Lee community relations manager Richard Howland said. "These are probably the only pianos that will be designed like this. These sort of pianos are one-off."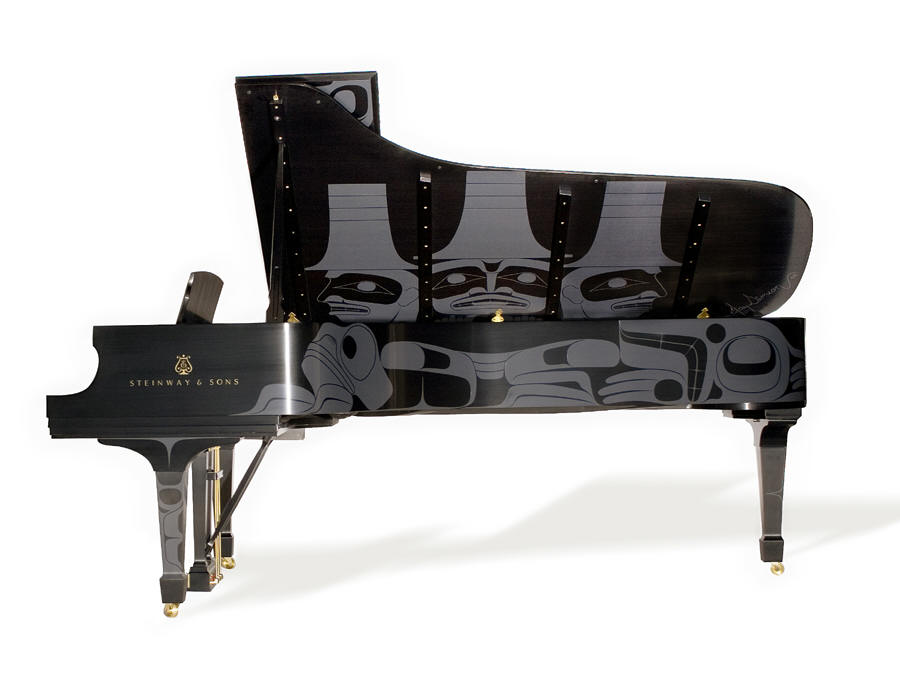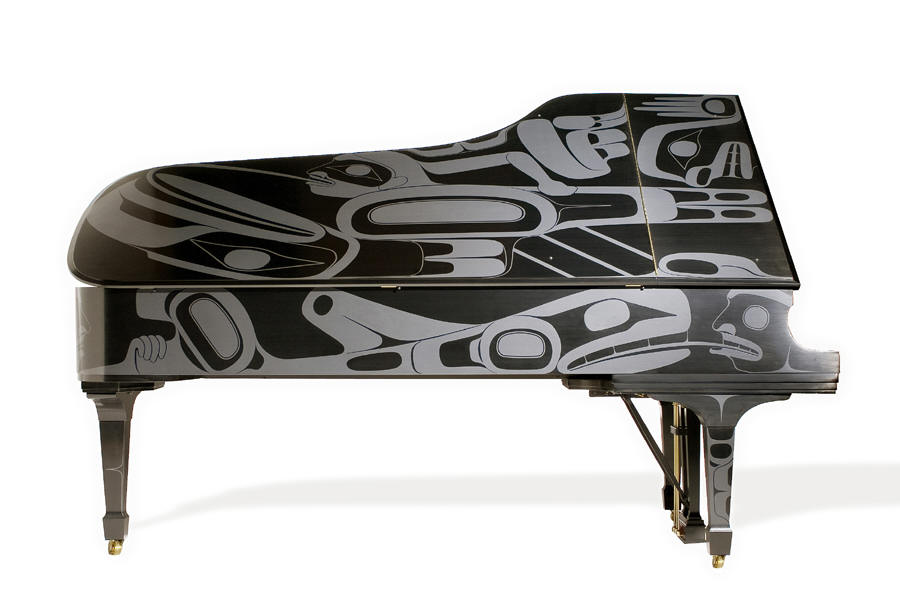 _______________________________________________________________________________________________________
The Steinway is exquisite!   Everyone who sees and plays it, LOVES it.   I
am thrilled with the job you have done.  I have received the information
from Steinway, and it was completed March 14, 1901 and sold in Toronto July
18, 1901. It was worth $1200.00 retail back then!
_______________________________________________________________________________________________________
May, 2010
Nothing new to report on my wonderful restored piano, except that I, 
and everyone who touches it, loves it.
  
 
Ken, whom you said was a good tuner, came to the house to 
touch up the tuning – it had slipped a little in transit and in adjusting to 
the dampness on the Sunshine Coast - said that he thought it to be 
one of the finest pianos of any style/manufacturer/age on the entire 
Coast, that you'd done a terrific job on the restoration and that I could invite him to the
house to play it anytime I wanted!      He's pretty much the 'go-to'
pianist for anything that's happening on the Coast and is also the 
tuner-of-choice of most people.
Means that he's, at one time or  another, played/worked on probably every piano from Langdale to 
Powell River, so his compliment is, I think, a very good one. Congrats to you and your 
staff....and I'm very thankful that I'm the one who gets to have the 
instrument in my house!!!
_______________________________________________________________________________________________________
Jane Coop, pianist
Vancouver, B.C.

 
August 2, 2011

 
Dear Rod,

 

I want to thank you very much for the excellent work that you did on my
Hamburg Steinway B piano this past spring.  The new hammers sound even and
beautiful, and the action is a dream.  The instrument is as it was meant to
be - mellow and sensuous, responding subtly and colourfully to my every
demand.

 I also appreciated the efficient and clearly outlined time-line for the
work.  I was never in doubt of its completion, and was more than pleased
with the date on which it was delivered to my house.


 With sincere gratitude,

 Jane                                     www.janecoop.com

_______________________________________________________________________________________________________
April 2010
Thank you, Rod, for the amazing restoration of our family piano.
My sister, Lois, organized a family 'Open House' this past Sunday featuring and celebrating the family's restored Heintzman piano. The 100 year + piano is beautiful and it sounds as good as it looks! I must say, Rod, the restoration of the piano is more than I imagined it could be. Truly. Our family is very pleased to have done business with you and your company. I am one of many who are grateful and impressed.
My immediate family, husband Gordon and children Sarah and Matt take this opportunity to pass along our sincere thanks: to you, your Mother, your Father, may he rest in peace, your skilled craftsmen, and others who had a part in the restoration of our family's precious piano. You have demonstrated your love and knowledge of the instrument and your remarkable skill as artist and craftsman.

Mom is thrilled and even though she can no longer move around easily, she sat on the new bench and played "her" piano on Sunday; it has never looked or sounded as good. I know this as I played it between the ages of 5 and 17! Dad and my Dad's Mother, Mildred Cumming, would have enjoyed the celebration. The piano was Granny's gift to the family in 1957. She was a pianist, composer, teacher, and Mother to 11 children – Granny and Great Granny to so many more. I remember her visit to our home in central Burnaby, by train from Ontario, to visit and to purchase the piano providing my Dad's 4 children with the opportunity to learn how to play the piano. As I remember it, she purchased a family piano for each of her children's homes. Thanks Mom, also a pianist, for choosing the 'best one' after playing many.
I will recommend you and your business to others considering piano restoration.

Consider me a 'more than satisfied' customer.
Yours truly,
Connie Caldwell
_______________________________________________________________________________________________________
Sep 23 2010
Hello Mr, Verhnjak
I want to express my big THANK YOU for the wonderful job you did to my old Steinway working horse, which came with all signs of old age (100 years!) to you and left you fully in and outside rejuvenated. It was worth every dollar and I am very, very happy!! Now my best wishes for your business and for you.
Renate Günther
_______________________________________________________________________________________________________
December 2009
I recently sold my grand piano (which I had owned for 25 years)
since we were downsizing and moving to a smaller house. I made a special 
trip to Vancouver to choose an upright. I spent two days playing 
different makes of pianos including the Charles Walters piano that Rod 
sells. I had thought I would never be able to replace my much loved 
grand. But I was very impressed with the sound and the feel of the 
Charles Walter pianos. I played 4 different ones in Rod's studio on 
the Thursday afternoon and then returned 2 days later to play them 
again. I really appreciated Rod's expertise and also the time he gave 
me to play on my own. I chose a studio upright that I liked even more 
than my grand. The tone is consistent throughout the range and the 
Renner action is wonderful to play. The bass strings had a lovely 
quality that I had not heard on any other piano that I played. Rod 
explained to me that they are the longest bass strings of any upright
in it's size and longer than most 50" pianos.
I am very happy with my purchase and highly recommend Charles 
Walters pianos.

Christine P.               Oliver B.C.
______________________________________________________________________________________________________
February 10, 2009

I wanted to have my piano rebuilt and restored but did not know whom to entrust with the piano I had grown up with and learned to play on. I wanted my children to be able to learn to play on my piano; and I wanted it to be an instrument that they would value and want to keep in the family. I asked a friend who is a retired percussionist from the VSO and Vancouver Opera whom he would suggest. He directed me to his piano tuner who said that he would only recommend Rod at Verhnjak Pianos.

Now I understand why. Rod is a man of integrity and a true craftsman. My piano became his "baby" by virtue of the countless hours he & staff spent painstakingly rebuilding everything right down to replacing the original decorative scrolls which I did not realize had been removed before my family had purchased it. No detail was left unnoticed right down to how my piano was to be transported. Rod has a true passion for his profession and took the time to explain the process which would transform my piano. It is now a wonderful instrument to play and will be used to share music with my children, family and friends that gather at our home. I will be spending many hours at the keyboard enjoying the touch and resonant sound.

I asked Rod to look up the age of my Heintzman upright. He told me it will turn one hundred years old in the month following its complete restoration. We celebrated the piano's one hundredth birthday with Chinese New Year!

Thanks a million Rod. We are exceedingly pleased with the results.

Susan C. West Vancouver B.C.

___________________________________________________________________________________________________

September 2008

Dear Rod,

We want to thank you for your countless help and expertise in our long search for 'the perfect piano'.

We came to you initially with a major problem - a piano that had been misrepresented to us and was an over priced fake. You not only explained in technical terms, why this awful piano was a fake but impressed us with your genuine knowledge and enthusiasm for pianos in general and Steinways in particular.

Along the way, while helping us deal with this mess, you found the piano of our dreams - a nine foot Steinway concert grand - and proceeded to obtain it for us, all the while explaining each step in your process and why. You invited us to your shop to see the piano and to see what you were going to do to it. You showed us how Steinway's come from the factory in various states, not always correctly balanced. It was such an enjoyable lesson and left us feeling even more confidant in your ability.

Your concern for our feelings was constantly addressed. You wanted to be assured we understood what we were purchasing. Thanks to all your efforts, we now really do have the piano of our dreams and our son, who is a third year honors composition student at McGill said,

'This is the best piano I have ever played!'

Thank you Rod!

Martina and Kerry Kowalchuk

__________________________________________________________________________________________________

March 2008

Dear Rod,

Just a note to thank you once again so much for your excellent service with regard to our recent purchase of a Charles Walter studio piano. It has been in our home for one month now, and we love it more every day-both the tone and the action are just perfect. All five of us are playing it, and it is wonderful to be having family sing-along around our lovely new piano.

We also appreciate the excellent workmanship of the piano itself, and the high quality of the preparatory work you put into it prior to delivery. As I mentioned to you at the time, it made such a difference to me to be buying a piano from a real craftsman; we had-and have- complete trust in your integrity as a businessman and craftsman. I know where we will be shopping if we ever decide to get a grand!

We will be recommending you to our friends; please also don't hesitate to use us as a reference for future clients,

Many thanks again,

Sylvia I. Metchosin, B.C.

_________________________________________________________________________________________________

January 2008

"I was impressed with Rod Verhnjak's pride in craftsmanship, his

attention to detail, and most of all, his unshakeable

integrity. The finishing job on my 1916 mahogany Heintzman grand

was impeccable. The piano with its new action and strings has a

lovely tone. His workshop can bring out the best in both the exterior

and interior of an instrument. Anyone who truly cares about the

highest quality piano restoration should look no further than Verhnjak Pianos."

F. Lam Vancouver B.C.

___________________________________________________________________________________________________

January 02, 2008

Hi Rod,

Wishing you and your family a Happy New Year. Wanted to let you know how much we are enjoying our Walter piano and to thank you for the excellent service and support you have provided. We spent 2 months in research once we decided to purchase a piano – read a lot of reviews, visited a number of stores, spent a lot of time on-line. Have to let you know how much we appreciated meeting you – your honesty and integrity just shone through and we feel very much rewarded in our trust in you and Walter pianos. We will not hesitate in recommending you to our friends and acquaintances. Thank you again!

Sincerely,

The Nicholsons

_____________________________________________________________________________________________

Dr. Ted Isenor

R.M.T., A.R.C.T., B.Mus.Ed., M.A., Ph.D.

Educational Consultant

October 10, 2007

Dear Rod,

As you know, I'm just a tad obsessed with pianos! I bought my first grand when I was still in my teens, and I have owned about ten pianos in my lifetime - ranging from a 5'2" Lester to a 6'8" Kawai to a 7'9" Petrof to a 9'1" Baldwin. I have selected grand pianos for many individuals and organizations, including several concert instruments for performance halls. I love all great pianos regardless of what name happens to be engraved on the fallboard. I have played more rebuilt instruments than I can remember, and many of them were fine instruments; however, that said, I honestly believe that the vintage Steinway you rebuilt for me is the most beautiful rebuilt instrument I have ever played.

Many technicians can restore an old case to make it look like new; quite a few technicians can restore the action and belly of an old piano to make it play like new; a small number of technicians can voice and regulate a rebuilt piano to make it sound and feel magnificent. You are a remarkable craftsman in that you can perform all three miracles! The 1907 flame mahogany Steinway A-2 you restored for me is an absolute joy to see, to play, and to hear. You have done a superlative job of combining appearance, feel, and sound to transform a collection of broken strings, hammers, and felts into a superb instrument. I can't believe that any piano can be so perfectly matched in terms of sight, sound, and feel. You have created an absolutely gorgeous instrument.

I want to thank you for your patience while I made up my mind about every little detail of the rebuilding process, and I especially want to thank you for your honesty, integrity, and candor in all of our dealings. My "new" piano arrived on time, expertly tuned, superbly regulated, and beautifully voiced. As every pianist knows, any piano is only as good as the last technician who worked on it. I am in awe of your craftsmanship and artistry, Rod.

Please do not hesitate to use my name as a reference for future clients who are interested in hiring you to rebuild vintage pianos. I'd be happy to talk to them about my extremely positive experience with Verhnjak Pianos.

Sincerely,

Ted

__________________________________________________________________________________________________

February 14, 2007

Cheryl and I want to thank you for the superb restoration of our Steinway upright. Each facet of the restoration, including the refinishing of the original mahogany case and matching bench, is excellent.

As well, every aspect of the restoration process itself was refreshing thorough and professional - from our first meeting, your written evaluation of the work that needed to be done, the rebuilding progress reports, the pre-delivery inspection and review of the piano mechanism and, indeed the actual pickup and delivery of the piano from and to our house.

There were no surprises which, in this age of businesses over-promising and under-delivering, was the best surprise of all.

Again, Rod, thank you. We have already begun to refer you and your team to family and friends who have pianos of their own. Please fell free to have any prospective client call us if he or she wants a personal recommendation.

Paul Smith...

West Vancouver B.C.

_________________________________________________________________________________________________
December 1, 2006
Dear Rod,
The time has flown since my piano was returned in September, and my silence is only a result of my practicing every available minute on what seems like a brand new instrument. Thank you, thank you!
The work that you did on my Steinway "M" grand has been nothing short of amazing. The piano now has a clear resonant bass, a pure sweet treble, and an evenness of tone across all registers. Your workmanship is impeccable.
I will take every opportunity to refer clients to you, whether they are interested in purchasing a piano or having a piano rebuilt. There is no substitute for your fine craftsmanship.
Sincerely,
Jane Hayes,
M.Mus, B.Mus., ARCT

Faculty, Music Department,

Kwantlen University College
__________________________________________________________________________________________________
October 2006
Dear Rod:
It's now been a little over four months since the delivery of our new Charles R. Walter grand piano and, even at this late date, I wanted to let you know not only how much I am enjoying playing it, but also that the process of buying it from you and getting it here was a real pleasure.
Although I've been playing piano since I was a boy, when it came time to purchasing a grand I realized how little I knew about how a piano is built and what the materials are that are used to build a very good one. There followed a couple of months of pretty intense research - reading internet articles and books and talking to people in the know by phone - in order to finding out what to look for in a piano and which brands meet the most stringent quality requirements. I quickly discovered that a tier one piano was economically out of reach for me, but the very best of the available tier two pianos was without doubt the Charles R. Walter.
I carefully planned a visit to Vancouver to see the five pianos that ended up selecting, leaving the Charles R. Walter till last. I was not disappointed. I very much appreciated the tour of your piano refurbishing business and especially being left to play the Charles R. Walter in peace, something that some salesmen had difficulty doing. In fact you weren't a salesman at all - the piano sold itself. I thought you gave us a great deal. You arranged the delivery in a way that was prompt and reassuring, and for that I thank you very much.
The delivery itself was quite amazing: the two gentlemen from the Piano Movers were fast, friendly and very careful in bringing in and setting up my new baby! You even paid for the first in home tuning.
As I said, I'm very much enjoying the new Charles R. Walter grand and, if I had to do it again, I'd do it in exactly the same way. So thanks Rod. You were terrific and the part that you played in helping me realize this particular dream is very much appreciated.
All the best,
Bruce Hipkin.
__________________________________________________________________________________________________
June 07, 2006
Dear Rod
Just wanted to thank you for a wonderful job you did repairing my Petroff II You returned life to my piano.
Thank you again,
Eugene Skovorodnikov, DMA UBC, School of Music, faculty
________________________________________________________________________________________________
November 2005
After a lot of thought and research, Rod Verhnjak helped me decide on a Charles Walter grand piano which we ordered and imported directly from the Walter piano factory, a family run business in Indiana.
The care they take that ultimately produces a wonderful range of sound is described in detail, in the Piano Technician's journal. the official publication of the Piano Technicians guild, Dec 2005, vol 48, #12
My piano is a Charles Walter grand, 6 foot, four inches, Cherry wood, with a satin finish, in Chippendale cabinet with a matching artist bench. I can only say and repeat that the sound is beautiful, the look is beautiful and it is an absolute pleasure to play.
All pianos are different, so importing a piano that has not yet been made and you thus never seen or heard is a challenge in trust. For countless reasons, it is best to set this up with a responsible technician.
Thanks to Rod and his shop for his ongoing interest, friendship and technical support.
Michael Zaitzow Vancouver B.C.

________________________________________________________________________________________________
July 28, 2005
Regarding a Gerhard Heintzman we Rebuilt and sold
I just returned from Vancouver and I must tell you how awesome the piano is.

It is the most beautiful addition to our condo.

It sounds great even for my abilities and the keys feel so good.

I don't know how to thank you enough for all that you did for me to get
the piano that is just perfect.

Please let me know what I have to do to keep it maintained.

Thanks

Nancy






_____________________________________________________________________________________
March 2006
Regarding Steinway grand model "D" restoration
Thank you Rod!
What an amazing job you've done on my piano! I'm deeply impressed by your craftsmanship and greatly appreciate of all the time, skill and care you put into your work. I look forward to enjoying the fruits of your labor for many years to come!
Linda W. North Vancouver B.C.

________________________________________________________________________________________________
March 27, 2006
To whomever it may concern,
Rod Verhnjak of Verhnjak Pianos lovingly restored our 1921 Hamburg Steinway "B" to near perfection. There are very few piano restorers in North America in my opinion that performs piano restoration to the level in which Verhnjak Pianos have.
This unsolicited letter expresses my utmost appreciation for his service. I would not hesitate to recommend his services to anyone that needs piano restoration services, in whole or in part.
Sincerely,
Timothy Tong Calgary Alberta
_________________________________________________________________________________________________
RODNEY C. BERGEN September 21, 2000
Karl Verhnjak Verhnjak Pianos 13-15531 24' Avenue Surrey, B.C.
Dear Karl & Rod
When we returned from our vacation in July, C… and I were pleasantly surprised to find the piano that we had ordered from you sitting in our family room.
As you are aware, we searched for a grand piano for over 6 months before we discovered the Charles Walter grand and it has exceeded our expectations in every respect. It has a wonderful tone and the action is better than many other pianos that we tried that were significantly higher in price.
I would be happy to recommend Charles Walter to anyone who might be interested in purchasing a high duality grand piano.
Thank you very much for the great service.
Yours , Rod Bergen
________________________________________________________________________________________________
______________________________________________________________________________________________
Dear Karl & Rod;
Thank you very much for the great pride you took with the restoration of my Heintzman piano circa 1915. I am the third generation to play this piano. I took lessons with it. It is very special for me to have my son now practice his lessons and learn to appreciate music on such a fine instrument.
When I first brought you the piano, you assured me that it was well worth putting your time and effort in to the restoration. You shared the progress with me, as each step progressed. This gave me an appreciation for the scope of work, and more importantly, the quality of the final product you delivered.
I know this piano will be in our family for many more years to come because of the care you took with this priceless heirloom. Thank you sincerely from all who have played, and will play upon your handy work.
All the best, Brent Carson
________________________________________________________________________________________________
TO WHOM IT MAY CONCERN July, 1988

RE : Mr. Karl Verhnjak, R.P.T.

Mr. Karl Verhnjak has been associated with Tom Lee Music as an associate piano tuner and technician for more than ten years.

His expertise includes such fine piano manufacturers as Steinway & Sons, Bosendorfer, Baldwin, Yamaha and a host of others.

He has taken many technical courses including the exclusive Steinway technical tour. Speaking of Steinway, he is the appointed technician by the manufacturer to maintain Vancouver's resident concert and artist Steinway D Concert grands. He also maintains the Bosendorfer 9"6 Imperial grand, Yamaha's CF 9" Concert grand, and the resident Baldwin 9" SD 10 Concert grand.

He approaches his work with tremendous knowledge and expertise. "He is conscientious, hardworking and takes great pride in serving the music community.

I have known him for over fifteen years, have the highest regard for his work and ethics, and sincerely recommend him.

Charles Gorling

Manager

The Piano Floor

Tom Lee Music
---
December 16, 1991

Mr. Karl Verhnjak

Verhnjak Piano Service

15531 24th Avenue Surrey, B.C.

Dear Karl,

Seasons' Greetings! I thought I'd send you this note of thanks for your excellent care of the Vancouver Symphony Orchestra's Steinway pianos. I especially appreciate the extra time you have often put in at the special request of our artists, usually at very short notice.

It is such a comforting feeling to know that the VSO pianos are always

tuned with your expertise.

I have also noticed considerable positive reaction to your mechanics work on the Hamburg Steinway. I know it

is a very difficult instrument to "fix".

I wish you and your family a very joyous holidays, and a very happy New Year!

Gratefully,

Jeremy Berkman

Stage Manager

Vancouver Symphony Orchestra
---
---
July 10, 1988

Dear Karl

This is just a small token of my personal gratitude, not only for your superb work done for the Royal Conservatory Exams, but also for your patience and help in accommodating our "needs", which are beyond the call of duty. It seems I have so many people and situations to work around, but your understanding attitude lightens my load considerably. You and your talents play a key role in maintaining the high standard now expected for the Vancouver Examination Center.

Most sincerely, Diane Globe.
---
Heide Esser Dec.1,1995
Mr. Verhnjak
Let me thank you again for the excellent work you did on my grand piano. The new hammers and the overhaul of the action, what a difference !
Thanks to your professional skills and workmanship my piano has been restored to its original glory.
What a wonderful Christmas gift for me.
Sincerely Heide Esser
---
CANADIAN FRIENDS OF THE HEBREW

UNIVERSITY

Tuesday, May 10, 1988

Verhnjak Piano Service

On behalf of the committee of "Life Begins At Forty" and the Vancouver Chapter of the Canadian Friends of the Hebrew University we would like to convey our appreciation to your company for donating your time and service to our cultural evening.

As you know the Canadian Friends of the Hebrew University is a non-profit organization, which relies on the generosity of individuals and companies like yourselves in order to support higher learning at Israel's first institution of higher education, The Hebrew University of Jerusalem.

The quality tuning you provided on the piano was thought highly of by the pianist performing, as' well as by the audience listening. We acknowledged your services in our evening program, which most of our audience took home as a souvenir of a memorable and successful evening.

With our sincere best wishes,

Gerry Kline,

Chairperson,

"Life Begins At Forty"
---
---
ROBERT SILVERMAN June 3 1989

Mr. Chuck Gorling

Tom Lee Music Company

Dear Chuck:

A note of thanks for providing your Steinway concert D for my recent recording date. I've never had a session proceed so smoothly, no small thanks to the caliber and condition of the instrument. It is amongst the finest Steinways I have ever. performed on, and Karl had it perfectly regulated.

The New York Steinway sound at its best is far more to my taste than that of any European instrument, including Bechstein, Bosendorfer, and those from the Steinway's own Hamburg factory. Long Island has also gotten its act together in the past few years as far as the action is concerned.

I look forward to many more performances on this splendid piano.

With all good wishes,

Sincerely, Robert Silverman.
---
SAXONS KEYBOARD CENTER LTD.

1539 WEST BROADWAY, VANCOUVER. B. C. V6J 1W6 .

February 1, 1984

To Whom It May Concern:

Mr. Karl Verhnjak has worked for this company for approximately 10 years in the capacity of piano tuner technician. His work in both tuning and repairing our instruments is of the highest caliber. In himself he is honest, industrious and courteous. I have no hesitation in recommending him for any position in his field.

Yours sincerely,

Peter L. Thompson President
---
October 2, 1994

Dear Verhnjak Pianos

Just a little note to thank you for the superb job you did on the UBC Recital Hall Steinway before my recital on September 22nd. I have frequently played that piano when it has sounded absolutely gross. On the night of my recital, however, I was pleasantly surprised - I don't think I've heard the instrument sound so good!

Thanks again! Sincerely, Stephen Smith
---